This year my manly husband is turning 25, and I had a doozy of a time trying to figure out what kind of party to throw him. Everything I looked up for a man's party didn't fit him at all... he's not into sports, he doesn't drink beer, and he's certainly not into trendy things, so forget the popular mustache party. Then it dawned on me... why not have a create a party theme around the most manly man on modern television... RON SWANSON?! (In the sad case that some of you don't know who that is, I beg you to watch Parks and Recreation). I thought it was sheer brilliance.
However, today I have a dilemma.... but I'll get to that later. First you have to know what kind of party I was plotting.
1) The Invitation
I found this AMAZING illustration on Etsy, and I contacted the artist, telling him I HAVE to get it in invitation form, and he said he'd sell them to me for a mere .50 a pop! What a deal!!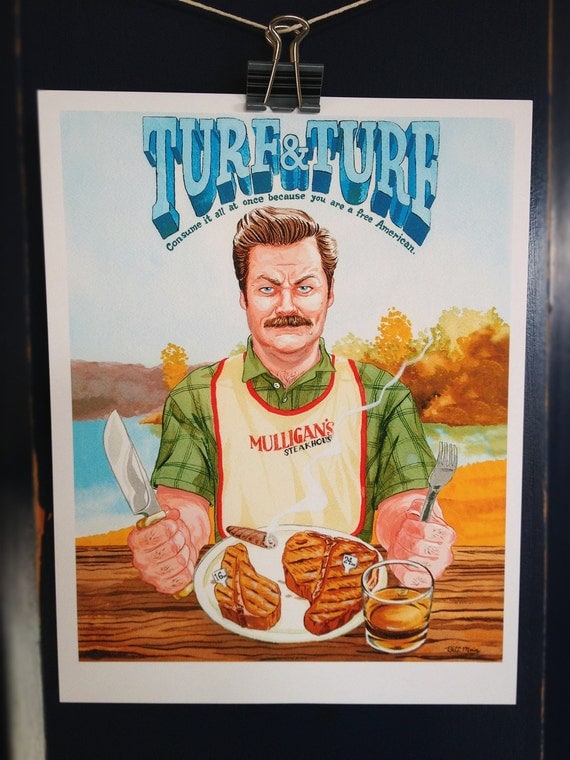 2) The Decorations
Although it was hard to find inspiration for such a party, I found what I was looking for by using the key words "fishing party" or "camping party." Most of the parties I found were for little boys, but they were grown up enough for me to steal at least a few ideas.
I love the paid flannel, camo, and camping fabric she used (and found at the thrift store) as the tablecloths, and the wicker duckies as plasticware holders. And how she used real fishing/camping equipment as decorations. That's easy enough! My hubby has enough outdoorsy stuff that I can drag out and put on the tables. I might even use the caribou antlers and the bear rug we have.
And in all those sites I was reading on how to decorate for a man's party, they said, "use masculine flowers." Is there such thing as a masculine flower? I didn't think so until I saw these.
I think Ron would approve of these roses.
I liked the bacon "bouquets" in this one, but I really liked the moustache root beer candy, since Ron does have quite the mustache. But instead of root beer candy (gross), I found chocolate ones on Etsy for a good price!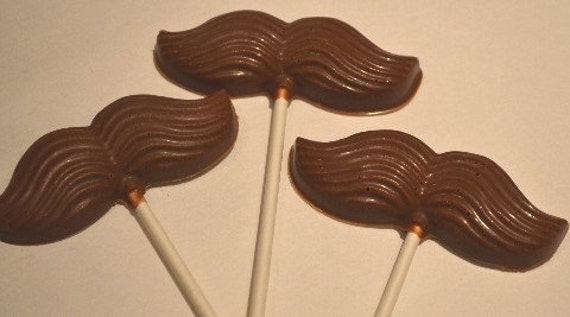 3) The most important element... The Food
Now this one was pretty easy. What does Ron Swanson eat?
STEAK. And bacon. And so does hubby. After all, "fish meat is practically a vegetable."
For sides, I thought broccoli bacon salad would be Ron approved,
and I don't think he'd mind some baked potatoes... especially these babies.
And for those that might insist on eating what Ron calls "rabbit food," I thought these might be at least a little acceptable.
4) Dessert
Now, I think this cake is awesome and Ron would, too.
Yes, that's a cake.
However, dear hubby doesn't much care for cake. But there are a few cupcake flavors he doesn't (or won't) mind, like maple bacon or
Vanilla Pepsi Cupcakes and Jack Daniels Buttercream
.
But to decorate them, I thought this was a brilliant idea, since Ron likes dark-haired women and breakfast food:
Although these are gummy eggs, I read that you can melt white chocolate, plop it on wax paper to dry, and add a yellow M&M or butterscotch hard candy for the yolk. Pretty dern easy!
Now for my dilemma............... Matt feels the same way as Ron about birthdays: they were invented by Halmark to sell cards. He hates celebrating his birthday. He hates the attention. He absolutely HATES when people sing happy birthday to him. When I brought this idea to him (not all the details, just a Ron Swanson party), he said he'd rather be fishing on a lake with his buddy.
So... do I throw him this party anyways (because I know he's actually like this party as long as we don't sing to him) or do I give him a party like Leslie Knope gave Ron for his birthday.... just a steak dinner by himself and his Jack?
Decisions decisions..........................